Audience & Messaging
Personas, pains & drivers
Positioning & messaging
Competitor analysis
Process & KPIs
Steps & flow of sales process
Goals & activities
Performance metrics
Training & accountability
Technology & Assets
CRM, automation and other software
Sales materials
Metrics & tracking
Our sales audit & assessment process.
We'll dive deep to help you go far.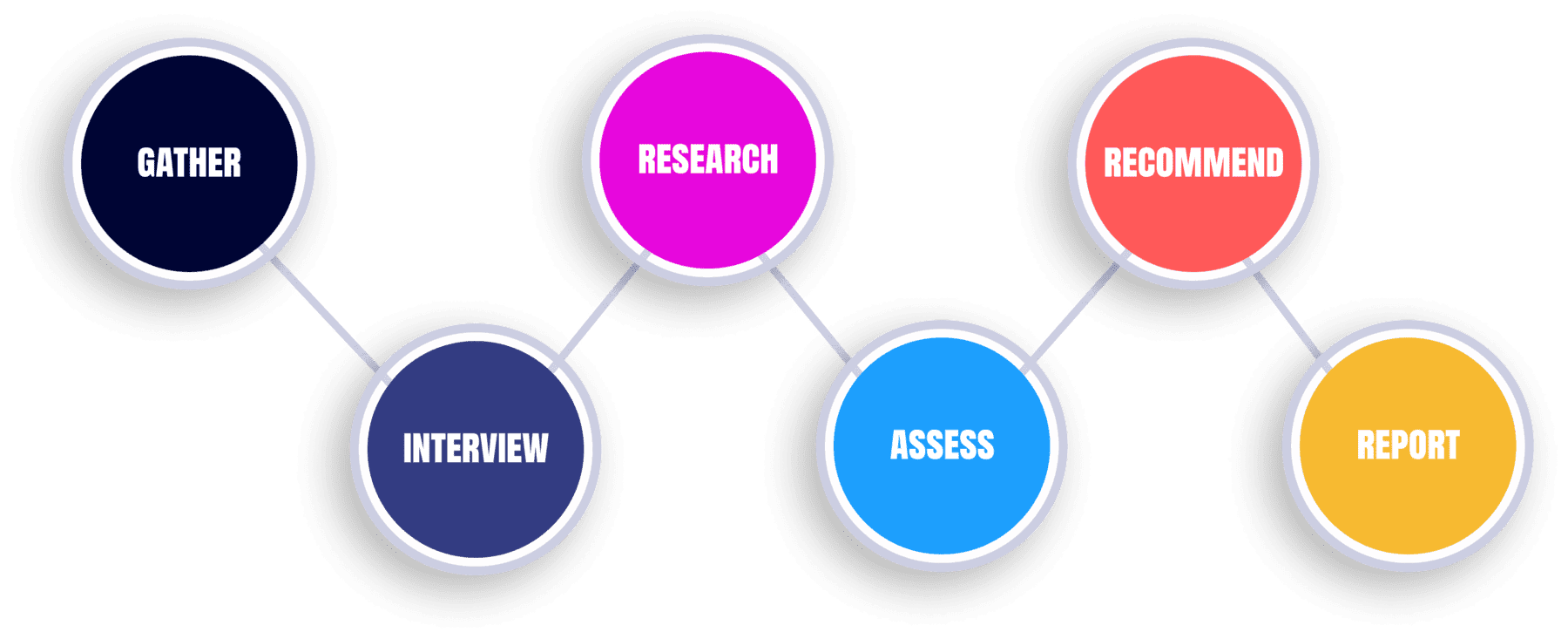 Structured surveys
Sales team interviews
Customer interviews
Market research
Concrete recommendations
Recommendation discussions
With 20+ years in business, we've worked with a wide range of companies.
Starter
Take our online assessment in 20 to 25 minutes. We'll provide feedback within 48 hours.
PERFECT FOR:
Very small sales teams looking to get some quick outside insight.
Standard
Our experts will focus on two of three key audit areas to develop insights & recommendations.
PERFECT FOR:
Sales team with specific challenges that can gain value from outside expertise.
Expanded
Our experts will provide deep analysis and recommendations for all three of our primary audit areas.
PERFECT FOR:
Sales teams that want to significantly optimize their entire approach to sales.
Enterprise
A highly customized and in-depth evaluation by our senior consultants.
PERFECT FOR:
Struggling sales teams looking to uncover big challenges.
Larger sales teams with complex sales processes.
Quickly evaluate your sales effectiveness.
Select what you are currently doing as a sales team below:
We have a repeatable sales process.
Custom content for each persona
A digital sales experience
We know the key pains and effective messaging inside out.
Why should I consider a sales audit?
Identify areas for improvement:
An audit can help you identify areas where your sales process and approach may be falling short. This could include issues with lead generation, qualification, or conversion, as well as gaps in your sales team's skills or training.
Improve sales effectiveness:
By identifying and addressing these issues, an audit can help you improve the overall effectiveness of your sales process and approach. This can result in more closed deals, higher revenue, and increased customer satisfaction.
Increase efficiency:
An audit can also help you identify ways to streamline your sales process and eliminate inefficiencies. This could include automating certain tasks or simplifying your sales pipeline to reduce the time and resources required to close deals.
Stay competitive:
In today's fast-paced business environment, it's critical to stay ahead of the competition. An audit can help you stay on top of emerging trends and best practices in B2B sales, ensuring that your approach remains relevant and competitive.
Gain valuable insights:
An audit can provide you with valuable insights into your sales process and approach. By analyzing data and feedback from customers and sales team members, you can gain a deeper understanding of what works and what doesn't, and use this knowledge to continuously improve your approach over time.
© 2023 Insivia. All rights reserved.