10 Best Sales Consulting Services for Your B2B Sales Team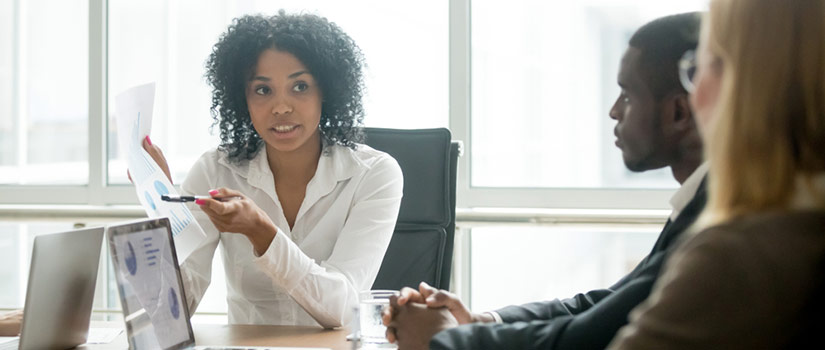 Sales process optimization is one of the most important aspects of continued sales improvement and growth.
And if you are interested in scaling your business by optimizing and scaling your sales processes, then sales process optimization is the solution for you.
Implementing this optimization approach and finding the best areas for improvement, however, can be a tricky process.
And that is where sales strategy consulting can come into play. Utilizing the expertise of experienced sales professionals and consultants allows your team to expand their skill set.
But don't worry.
We've made it easy for you by compiling the best B2B SaaS sales strategy consulting services so that you can achieve sales process optimization in no time.
Saleslion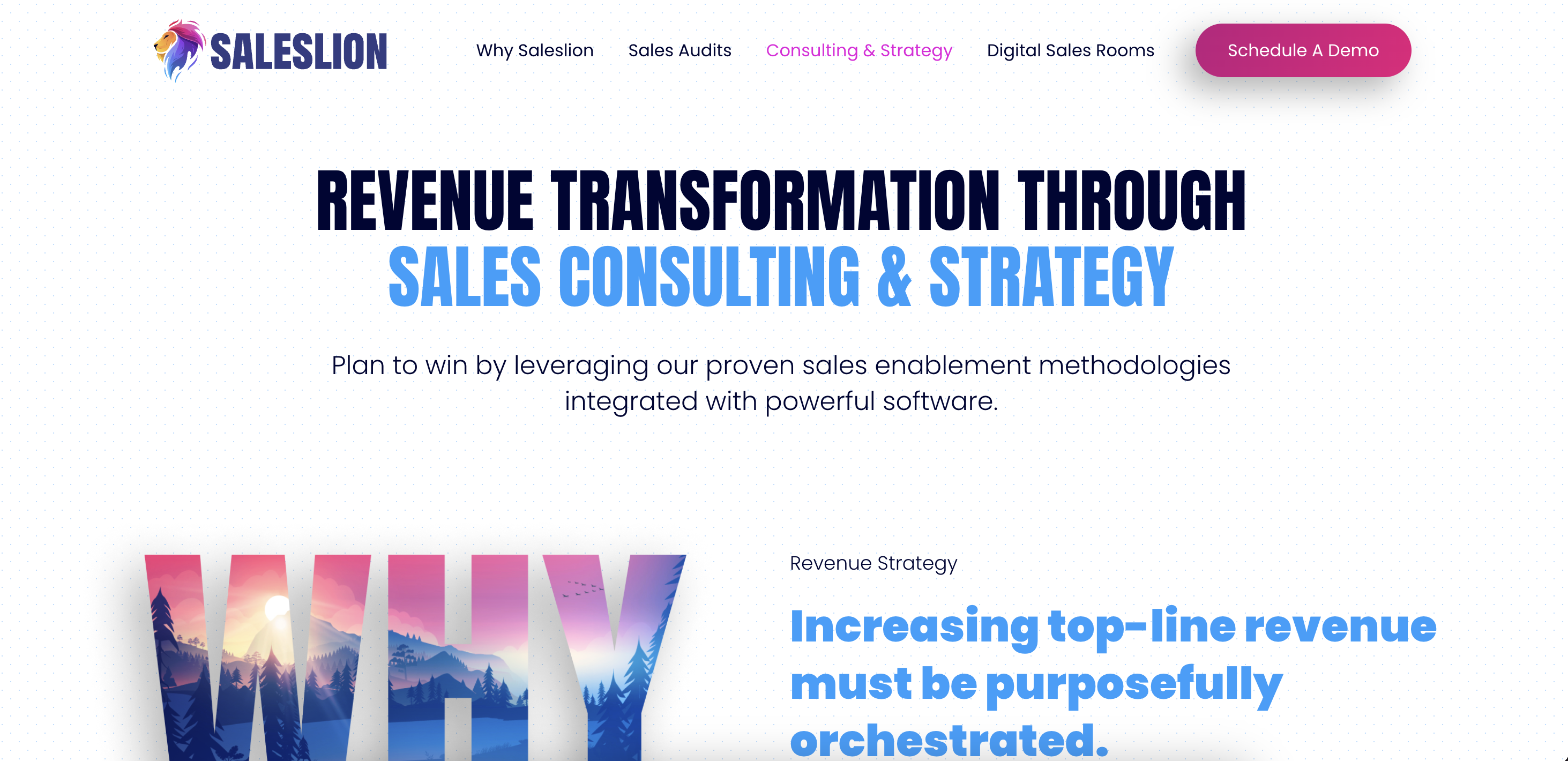 Saleslion offers a sales strategy consulting service that specializes in helping B2B companies optimize their sales processes and achieve sustainable growth.
Saleslion's sales strategy consulting begins with a deep understanding of each company's business objectives, target market, and existing sales practices. They conduct thorough assessments to identify areas for improvement, uncover bottlenecks, and discover opportunities for growth.
One of the key areas of expertise at Saleslion is the combination of sales process optimization with sales technologies. Supporting sales strategy development with digital sales rooms, Saleslion helps companies achieve sustained growth.
Overall, Saleslion's B2B SaaS sales strategy consulting empowers B2B companies to transform their sales approach, drive revenue growth, boost close rates, and achieve long-term success in today's competitive marketplace.
Bain & Company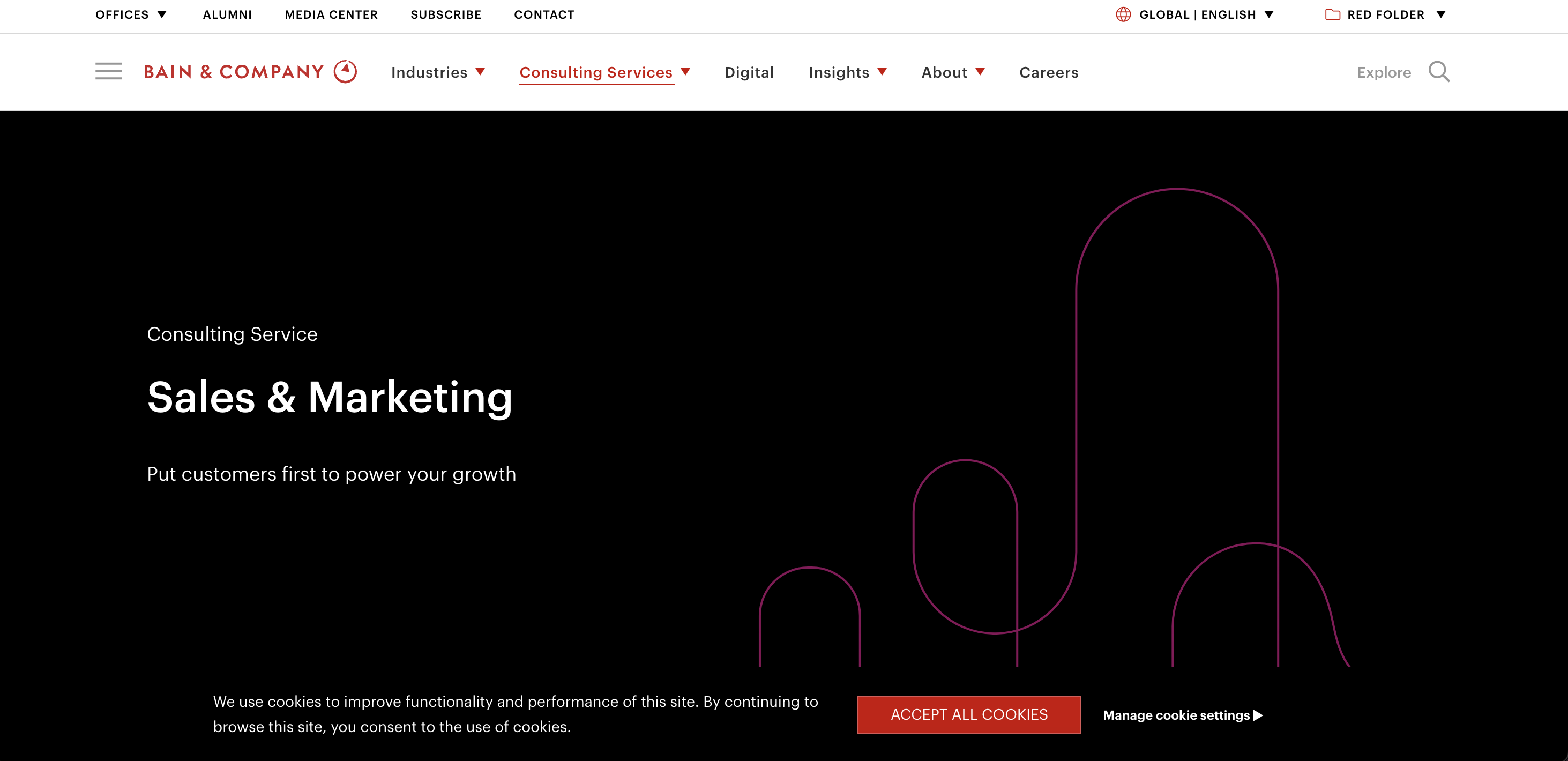 Bain & Company's sales strategy consulting begins by thoroughly understanding the client's business, market dynamics, and competitive landscape.
They conduct in-depth market research and analysis to identify growth opportunities, assess customer needs, and evaluate the effectiveness of existing sales strategies.
Additionally, Bain & Company provides services to assist with sales team development and performance management.
Bain's sales strategy consulting services are delivered by a team of experienced consultants with deep industry knowledge. They leverage data-driven insights, best practices, and innovative approaches to help clients achieve an industry advantage.
Sandler Training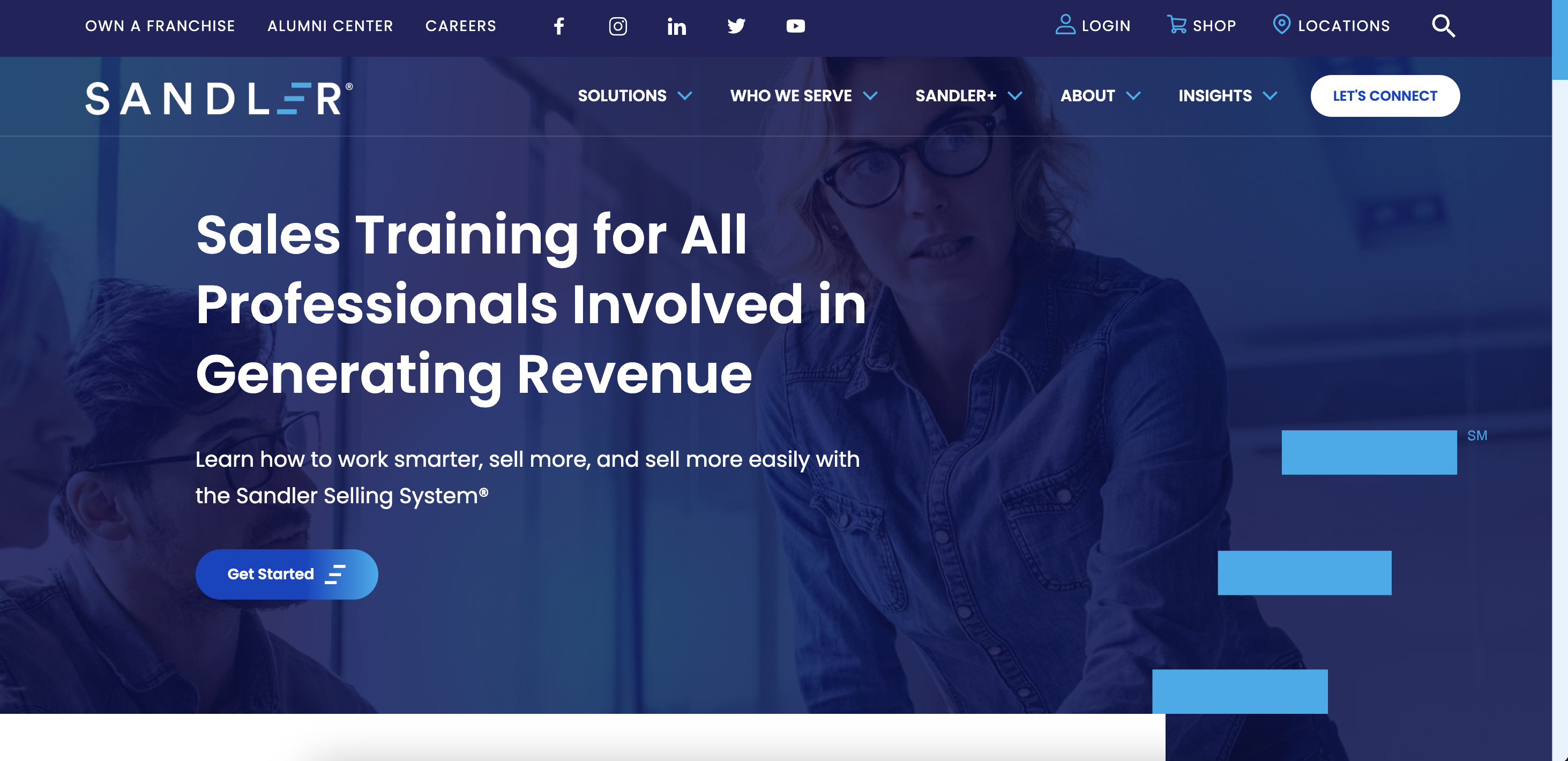 Sandler Training equips sales professionals with the skills and strategies needed to succeed in today's competitive business environment. With a comprehensive approach to sales effectiveness, Sandler offers a range of services to enhance sales performance and drive revenue growth.
Sandler Training's sales consulting services begin with a thorough assessment of the client's sales processes, methodologies, and challenges. Their consultants work closely to identify areas of improvement and develop customized solutions so that you can improve your B2B SaaS sales strategy easily.
They also offer a wide variety of workshops, videos, and resources designed to enhance sales skills and behaviors. These resources focus on helping sales team members build effective communication, rapport-building, active listening, questioning techniques, and objection-handling skills.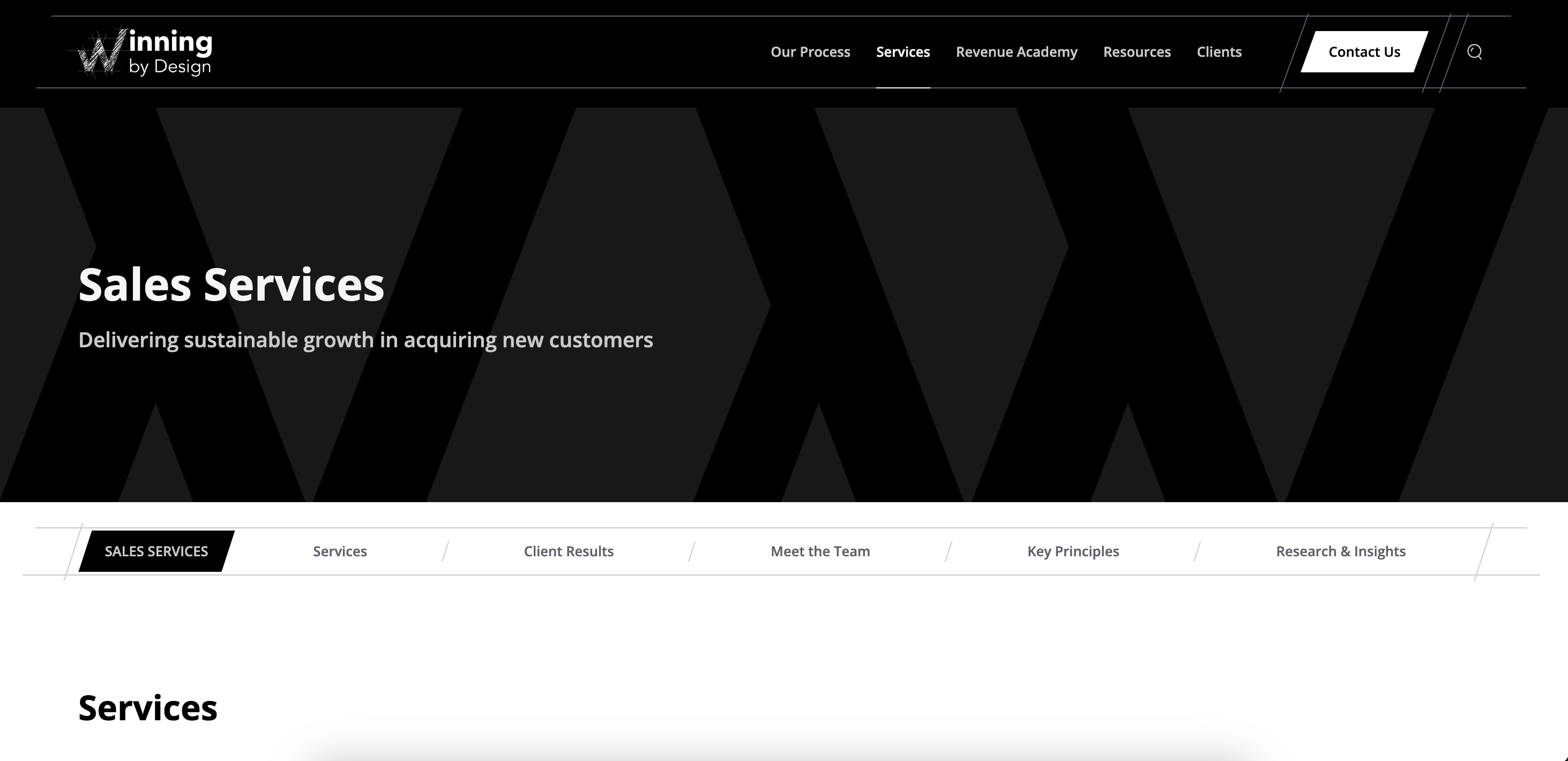 Winning by Design is a B2B revenue consulting and training company known for using scientific frameworks and playbooks to drive sustainable revenue growth for teams.
Specializing in revenue growth, Winning by Design supports sales, customer success, and marketing teams with strategy consulting and coaching programs.
In addition, Winning by Design offers services like real-time insights into important sales performance metrics based on their unique data model. They also provide customized playbooks, examples, and materials focused on the SaaS industry.
The firm is recognized for its focus on discovering, communicating, and delivering business impact consistently across the entire customer journey. This unified service is incredible at optimizing a B2B SaaS sales strategy for companies of all sizes.
Sales Xceleration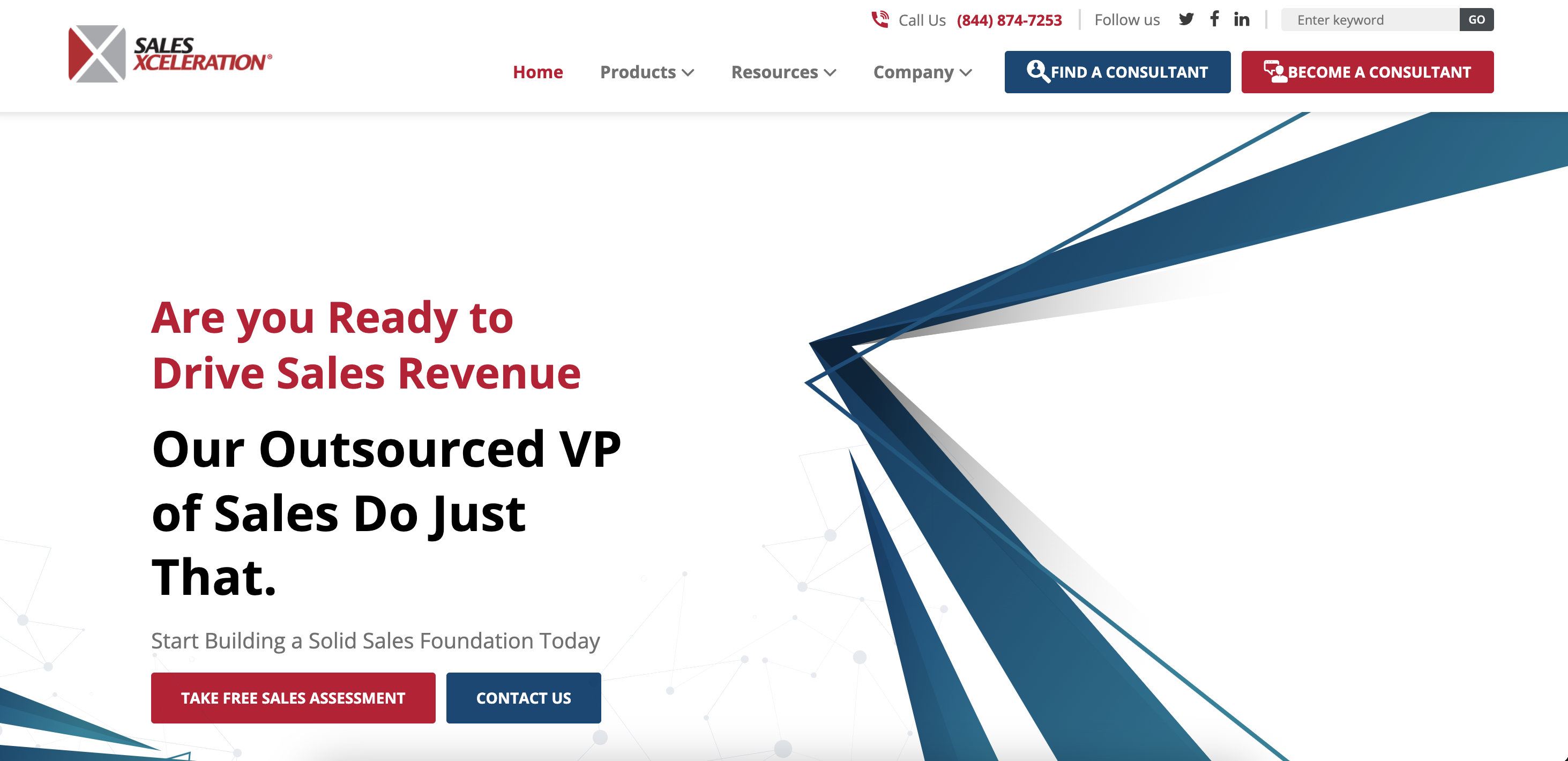 Sales Xceleration supports B2B companies by providing outsourced sales consulting services to small businesses and mid-sized corporations. Their primary offering is where they fulfill the role of a VP of Sales for businesses that might need more resources or need a full-time position.
Their consultants devise strategies for promoting and selling products or services, serving as intermediaries between companies and their customers. They also recommend products and services while ensuring customer requirements are met. This could include everything from helping to create sales plans and infrastructure, to training sales teams, to developing sales strategies and processes.
In essence, Sales Xceleration aims to provide the strategic sales leadership and sales management that businesses need to grow their sales and profits, without the overhead of a full-time executive.
Additionally, Sales Xceleration provides a certified sales leadership training program for sales professionals that wish to scale their skillset and leadership expertise. This program can also be effective at helping sales reps increase their ability to construct a quality B2B SaaS sales strategy.
RAIN Group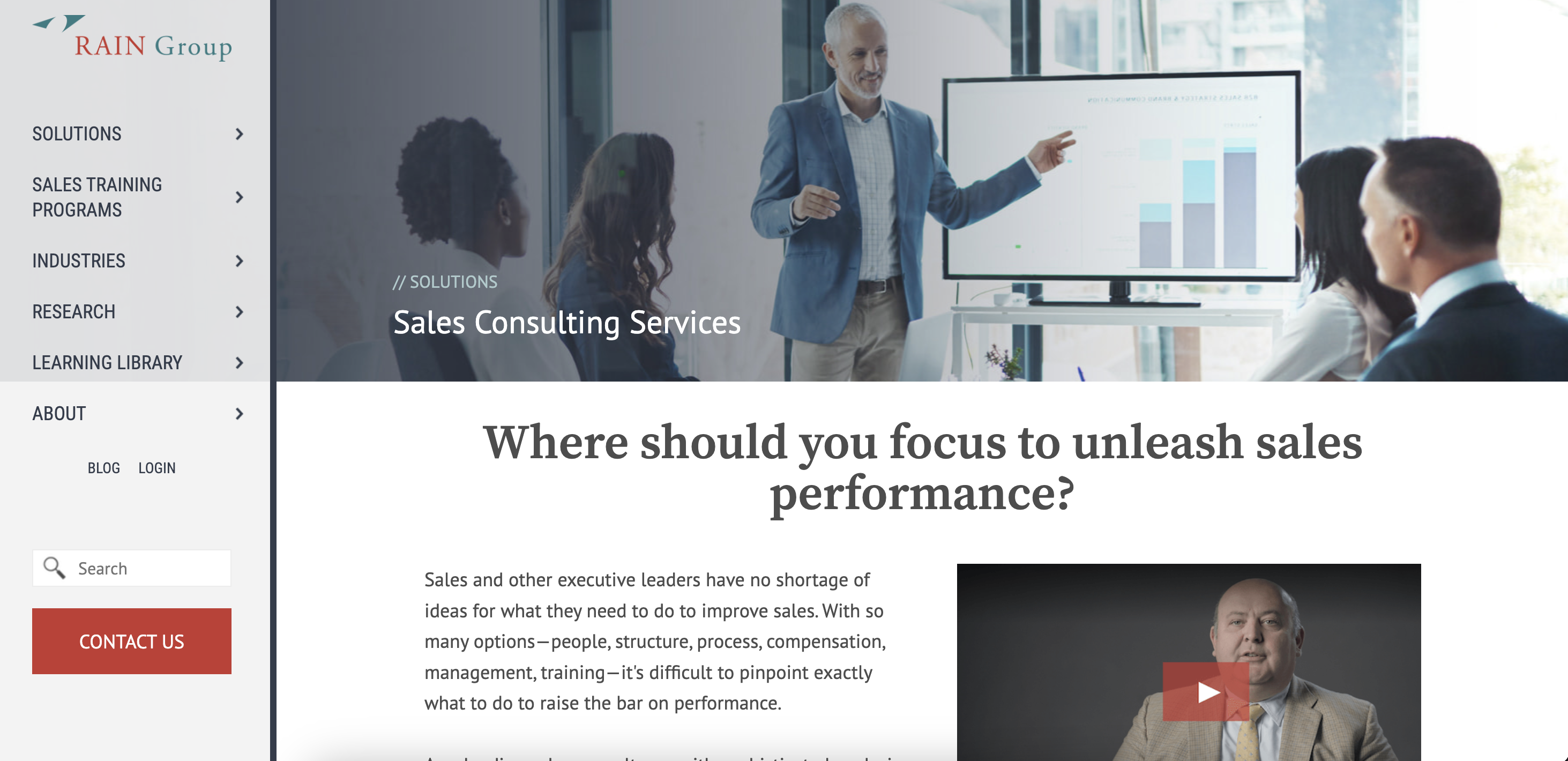 RAIN Group is a global sales training and performance improvement company that helps businesses to unleash their sales potential. They focus on delivering transformational experiences for their clients, driving significant results through a combination of in-person and virtual training programs.
RAIN Group has extensive expertise in a wide variety of sales areas, including consultative selling, virtual selling, sales negotiation, sales productivity, and more. From B2B SaaS sales strategy improvement to sales process optimization, these areas of expertise can serve as great assets for your organization.
They offer a comprehensive suite of sales training programs that are designed to help salespeople, sales managers, and professionals at all levels and roles improve their sales skills, win more deals, and increase sales results.
SalesHood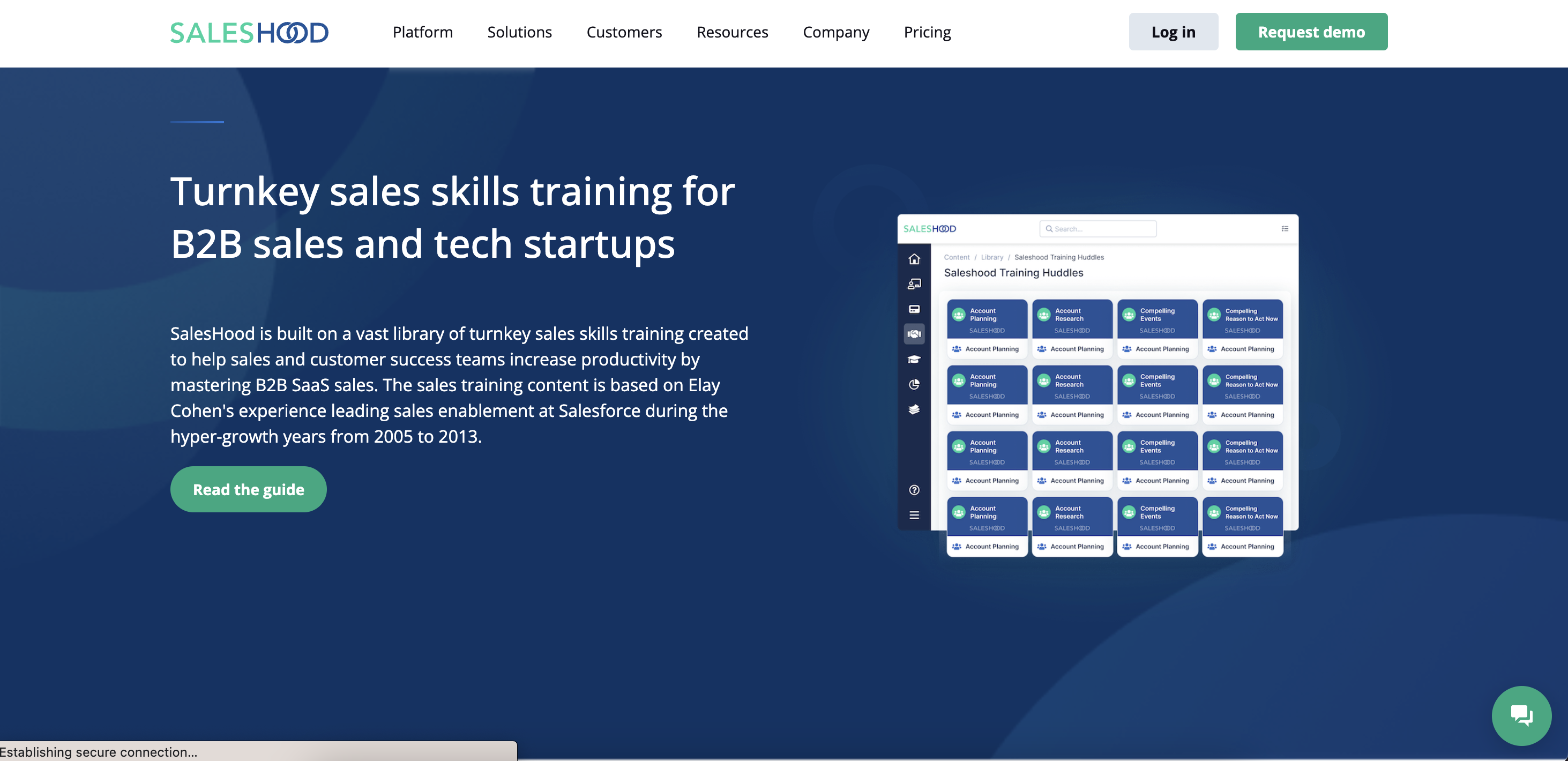 SalesHood offers a comprehensive suite of tools and services to enhance sales performance and drive revenue growth.
Their platform focuses on training, onboarding, coaching, and content that is closely tied to outcomes. This means they provide relevant, timely training materials and coaching sessions that align with the specific needs and sales cycles of their businesses.
One of their key offerings is the ability to crowdsource and document successful sales plays. This allows companies to create a repeatable winning sales process based on real-world success stories within their organization.
SalesHood also offers a sales enablement platform that delivers data-driven content, sales coaching, and sales enablement tools to enhance the skills, knowledge, and performance of sales teams.
With this tool, companies can accelerate customer engagement and close more deals faster by providing continuous learning, reinforcement, and collaboration opportunities to their sales representatives.
ValueSelling Associates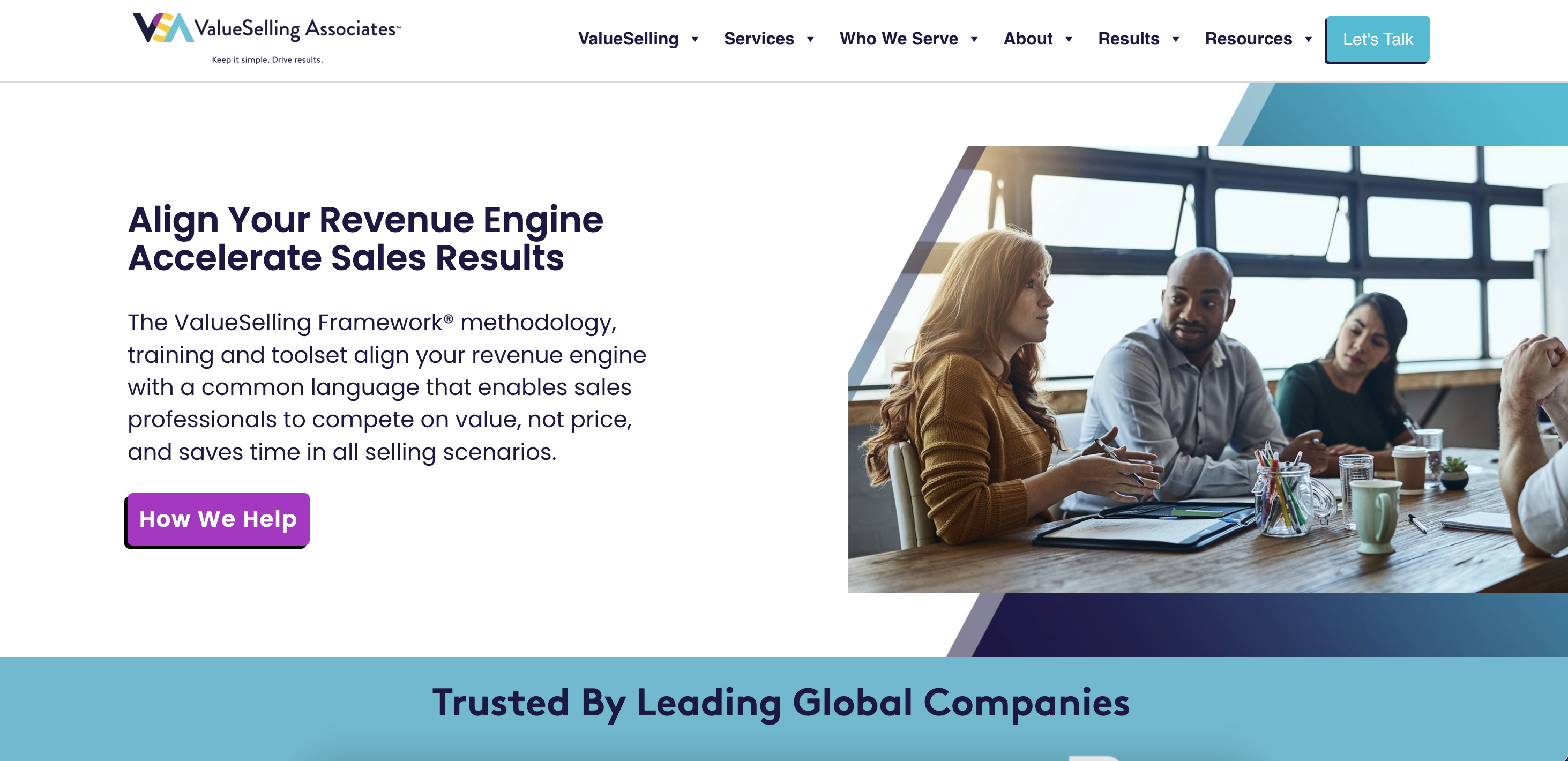 ValueSelling Associates is a sales training and consulting firm known for its proprietary ValueSelling Framework. This framework provides sales professionals with a proven process and tools to engage, qualify, advance, and close sales opportunities.
Their approach is centered around value-based selling, a technique that focuses on the buyer and the value they receive from doing business with the seller. This involves connecting with a prospect's business problems, needs, wants, and desires.
The methodology is designed to help sales reps master communication skills such as active listening, strategic questioning techniques, and demonstrating empathy. Each of those skills can then be leveraged to improve your B2B SaaS sales strategy as well.
Force Management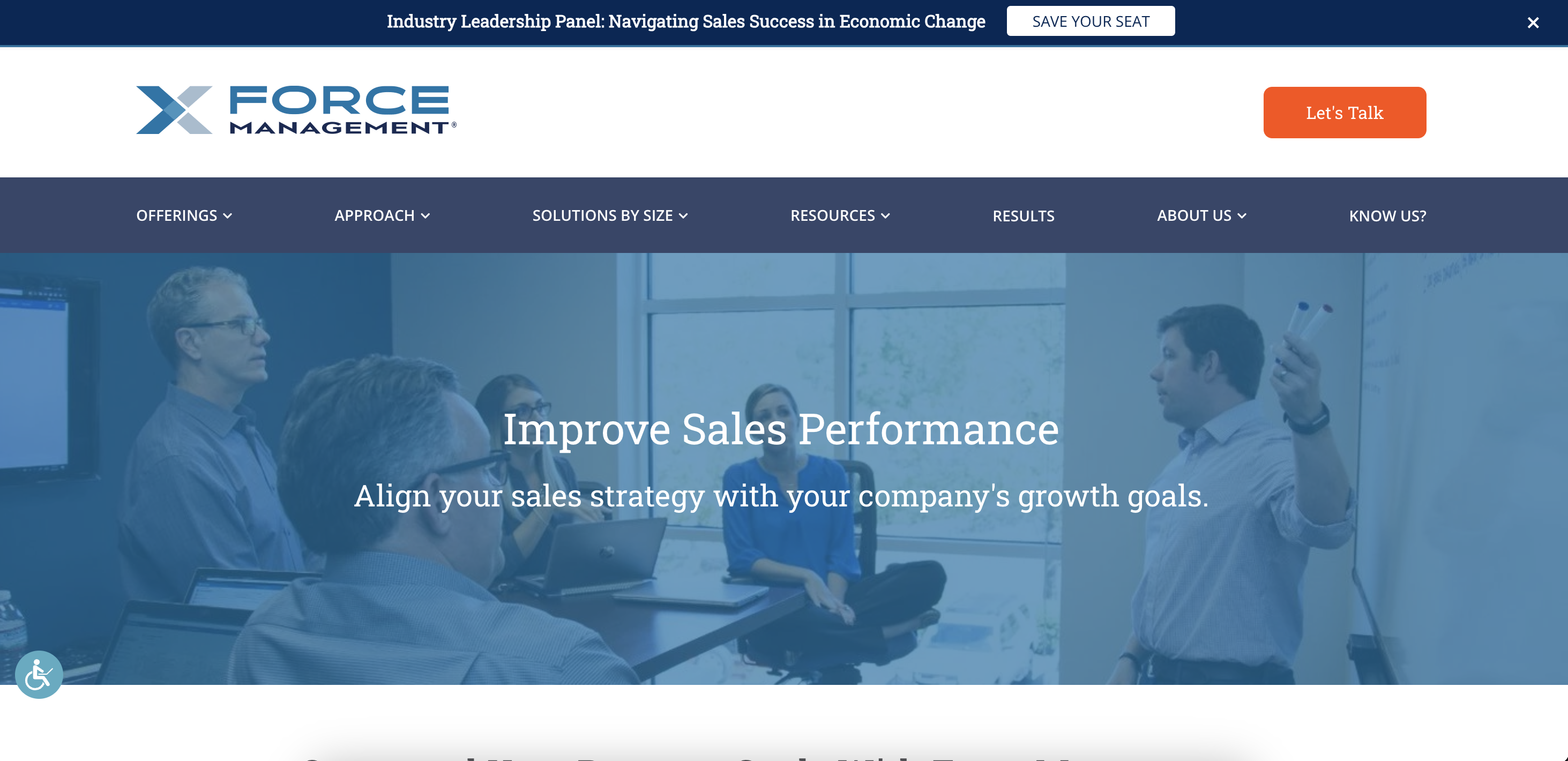 Force Management is a sales effectiveness consulting firm that specializes in helping B2B companies to increase their revenue and improve their sales margins. They work closely with sales organizations, providing hands-on assistance to help them succeed.
Force Management offers several key services, including sales training, sales transformation, and sales strategy consulting. Their methodologies are customized to each client's specific situation and requirements, ensuring a tailored approach that meets the business's unique needs.
They offer a variety of programs all aimed at different aspects of the sales process, from creating compelling messages to managing complex sales processes.
Overall, Force Managemen helps sales organizations succeed by improving their sales processes and performance.
The Brooks Group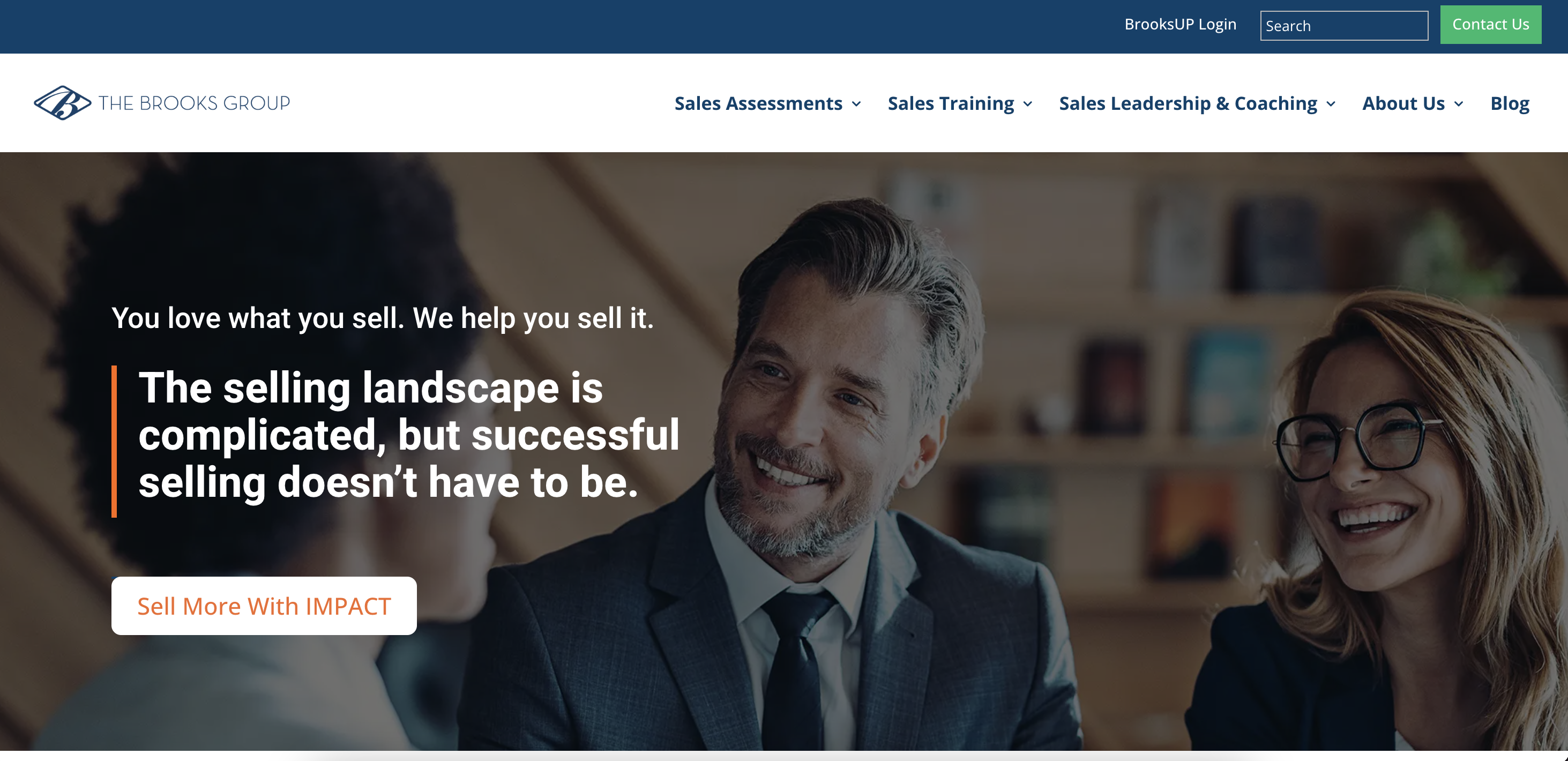 The Brooks Group is a sales training and sales management training company that helps companies build top-performing sales teams, with a focus on creating lasting returns on investment.
Their offerings include sales coaching classes and seminars. They offer a suite of sales and sales management development programs, along with industry-leading reinforcement tools and best-in-class sales consulting services. The Brooks Group serves various sectors including manufacturing, healthcare, and professional services.
They also provide market research, consulting, and instructional design services, particularly to organizations in the healthcare and biotech industries.
Richardson Sales Performance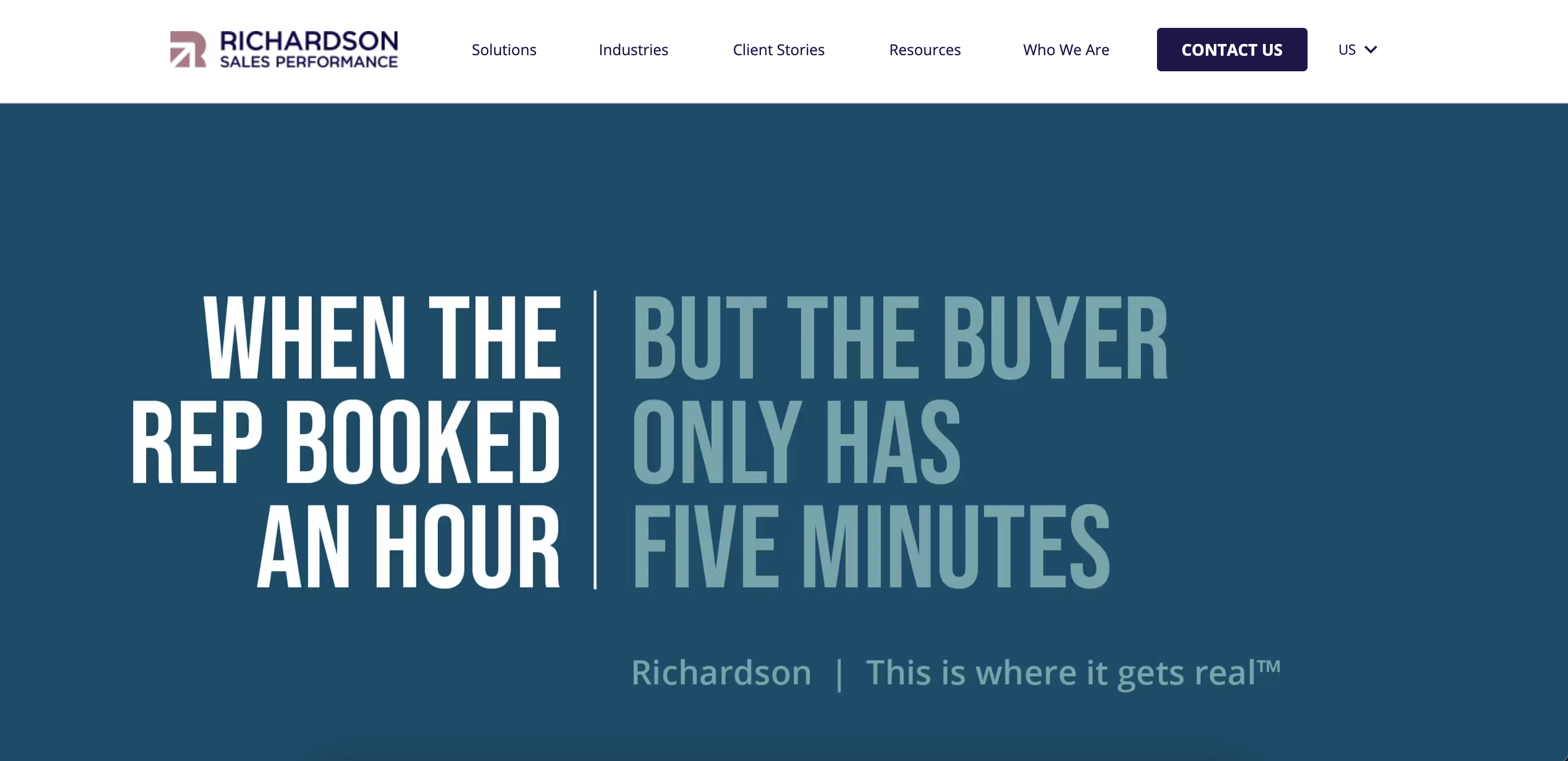 Richardson Sales Performance provides comprehensive sales training and consulting solutions designed to drive meaningful change for its customers.
Their sales consulting services focus on sales process optimization, aiming to raise mastery of effective practices by monitoring observable behaviors in the sales team and reinforcing adoption and application in real-world scenarios. This involves implementing a successful B2B SaaS sales strategy that goes beyond content; their consultation support ensures a successful journey.
One of their signature approaches is consultative selling, which is a sales approach that prioritizes relationships and open dialogue to identify and provide solutions to a customer's needs. Richardson Sales Performance works closely with leading sales organizations to simplify their sales growth needs through their sales management operations.
Key Takeaways
In today's highly competitive business landscape, partnering with the best sales consulting services can make a significant difference in achieving sales success.
The best sales consulting services offer a comprehensive approach, starting with in-depth assessments to identify areas for improvement and tailored solutions.
They provide expertise in sales strategy development, effective sales processes, and sales process optimization strategies.
The best sales consulting services bring industry knowledge, data-driven insights, and innovative approaches to drive revenue growth and help organizations achieve a competitive advantage.
By leveraging their expertise, your business can optimize sales performance, enhance your sales effectiveness, and achieve sustainable growth.
If you are a B2B company, choosing the right sales consulting service that aligns with specific business needs, industry focus, and company culture means engaging with B2B SaaS sales strategy experts to maximize the benefits and unleash the full potential of your sales team.
Ready to reinvent your sales process and tools?
One quick call and we'll share our approach - no pressure.
Schedule your demo