What is a Digital Sales Room?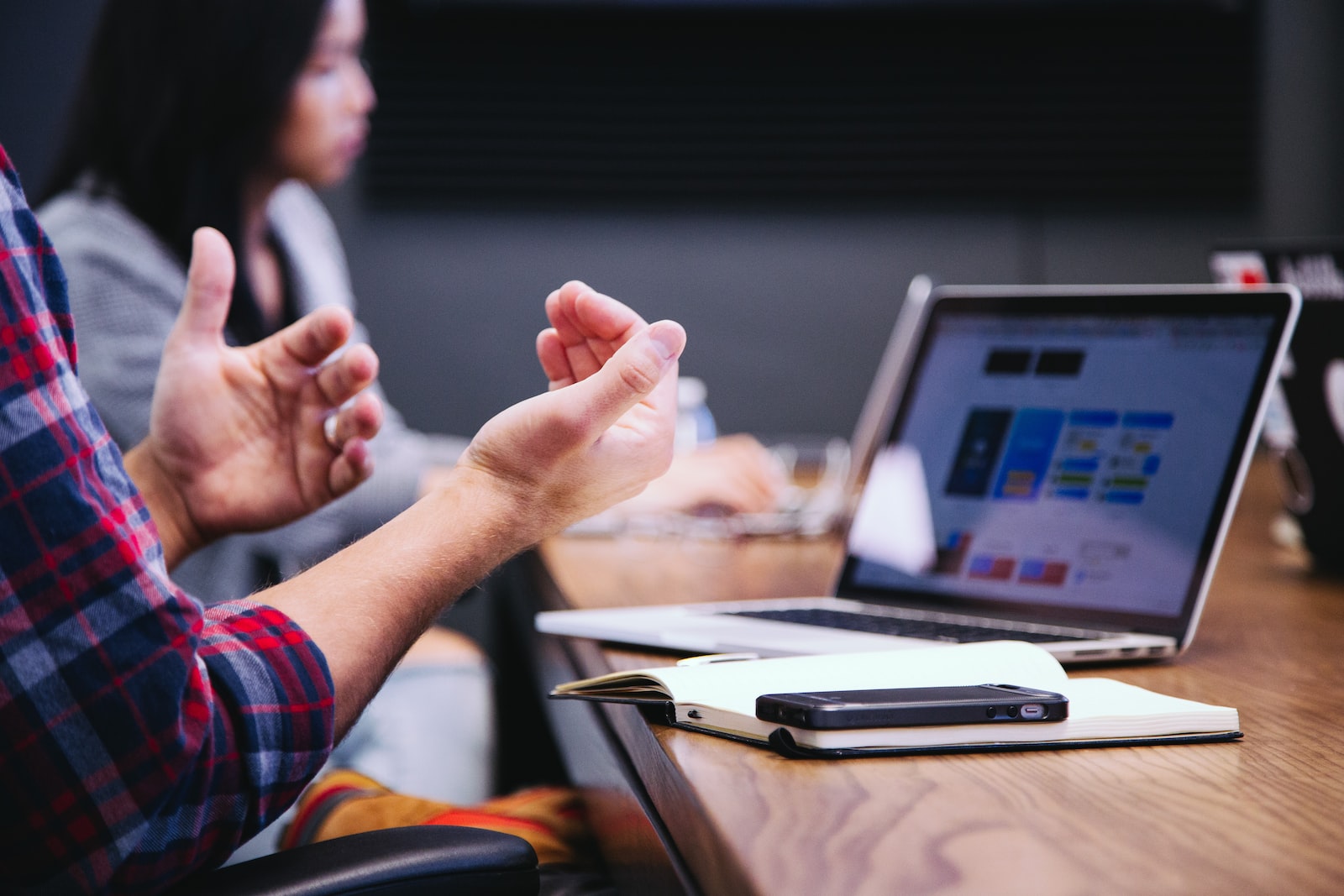 Digital sales rooms are sales enablement tools that are beginning to grow in popularity in the world of sales. But even though they have become essential tools in the tool kit for remote selling, many salespeople are still unaware of their benefits.
So, what is a digital sales room?
And why do they matter?
A digital sales room (DSR) is an asynchronous online space that allows companies to share information and resources with buyers, enabling a streamlined buying experience.
With a digital sales room, sellers can provide prospects with appropriate marketing and sales content, personalized living documents, intro videos from the company team, invitations to events, and more.
All of these resources are provided in a timely manner, matching the specific content with the specific stage of the sales process so that the prospect gets exactly what they need when they need it.
Digital sales rooms also allow buyers and sellers to collaborate in real time, making it easier than ever for companies to close deals quickly and efficiently.
Here is a general blueprint for how digital sales rooms function:
Sales teams add content onto one central sales enablement page.
That page is then shared with the client through a personalized link to give them access to various materials and pieces of content.
Salespeople continually update the sales room during the process for a completely customized and personalized sales experience.
Today, we are going to be looking at common key features of digital sales rooms, how digital sales rooms have revolutionized the sales process, and how Saleslion is using its digital sales room to help companies boost their revenue and close more deals, faster.
Mapping The Sales Process
Digital sales tools can be imagined to follow this sales process arc below. These steps are going to vary greatly depending on the tool, the customer served, and the company using the tool, but the phases below are all important touches in most processes for enterprise sales scenarios.
Discovery
The first stage in which digital sales rooms have proven to be a major asset within sales processes is the discovery phase. In this phase of the sales process, it is extremely important to communicate your company's unique, but complex, solution in an engaging and understandable way.
With digital sales rooms interactive content such as videos, graphics, and presentations, assist businesses to provide customers with an engaging visual experience that helps them better understand their product or service.
Follow-Up
Additionally, with data and analytics tracking, digital sales rooms can allow companies to follow up with customers in a timely manner and present additional materials without having to be asked.
In response to certain buttons that are clicked or certain types of engagement, you can send timely and related content. By doing this, you show your customers that you are eager to take initiative and that you are genuinely interested in serving them to the best of your ability.
Fit
Similarly to the discovery phase, in the fit phase, digital sales rooms help teams easily access and share all of the documents and data related to their customer interaction, providing them with insights into their customer's needs and expectations. Along with interactive collaboration tools, the company and customer can mutually explore how good of a fit the product or service is for the customer.
​​This will make it easier for your teams to explain your products or services, as well as identify any potential issues that could prevent the tool from being successfully integrated into your customer's existing setup and process.
Proposal
Especially for enterprise companies, utilizing a digital sales room during the proposal process can have extraordinary benefits.
During this phase, teams need to quickly and accurately create proposals based on customer insight and expectations. And with digital sales rooms, developing an accurate and informative proposal can be easily developed off of data tracked throughout the whole process and content generated through the interactive mutual collaboration features.
Close
The final way that digital sales rooms can assist in the sales process is by increasing close rates. By demonstrating eagerness to serve and a commitment to personalization early in the sales process through interactive tools and timely responses, your customer will have substantial trust in the value you can add. This trust will make proposals much more receptive.
Also by having a much clearer understanding of your solution, ill-fit prospects will leave quickly, letting you focus more time on the customers who need and want your product or service the most. This allows the proposal phase to be filled with only the most likely customers, making the experience much less uncertain and much more secure.
Key Features of a Digital Sales Room
Interactive Tools
Digital sales rooms offer a wide range of interactive tools to help businesses engage with customers and close deals more quickly. Frome sales dashboards to 3D product visualization interactive tools can help peak interest during all phases of the sales cycle.
These tools enable companies to create a highly personalized and interactive experience for prospects, where they can obtain the information and resources they need in order to make an informed decision about the product or service being offered.

Furthermore, interactive tools, such as the one drag-and-drop page from Saleslion shown above allow buyers to communicate their priorities and problems directly with sellers, which is essential for any successful deal.
Especially during the age of virtual selling and remote purchases, where forming relationships and personal connections can be difficult, these interactive tools ensure companies can bridge the physical distance between buyers and sellers in order to close deals quickly and efficiently.
Mutual Action Plans
Mutual action plans are an important tool for building trust with customers. By creating a shared document that outlines the goals of both the customer and the sales team, mutual action plans help to ensure that everyone is on the same page and working towards a common goal.
This helps to build trust between both parties, as it shows that each party is invested in achieving success for the other.
Additionally, mutual action plans (example below by Dock) provide a clear roadmap for how the sales process will progress, which can help to alleviate any uncertainty or confusion about what needs to be done next.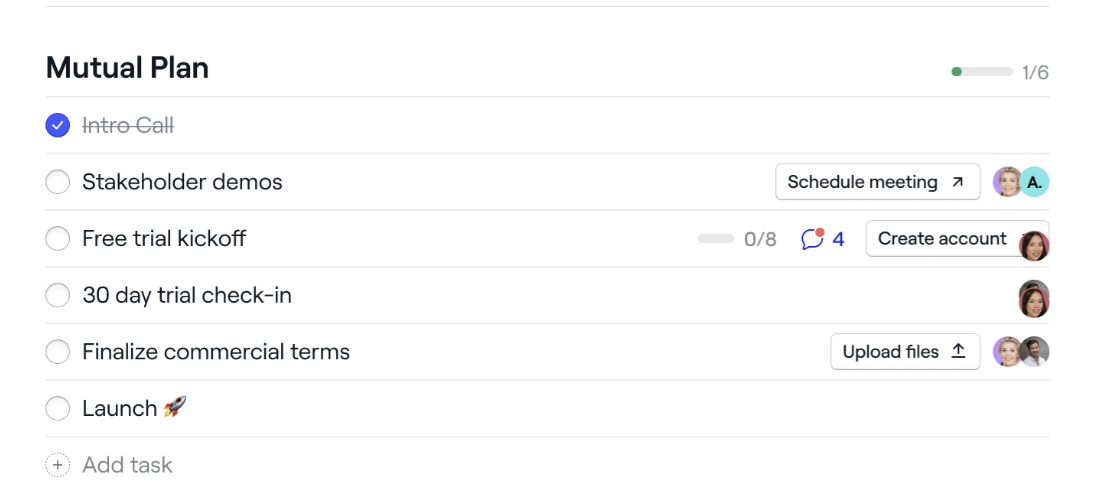 With a mutual action plan in place that is live and up-to-date, customers can feel confident that their needs are being taken into account and that they are being treated fairly throughout the process.
Video Recording
Video is one of the most popular forms of communication today. Countless research studies have been conducted on the effectiveness of videos when used for sales and marketing purposes. Below is an example from Vidyard on a pre-meeting recording to help engage customers and reduce no-show rates.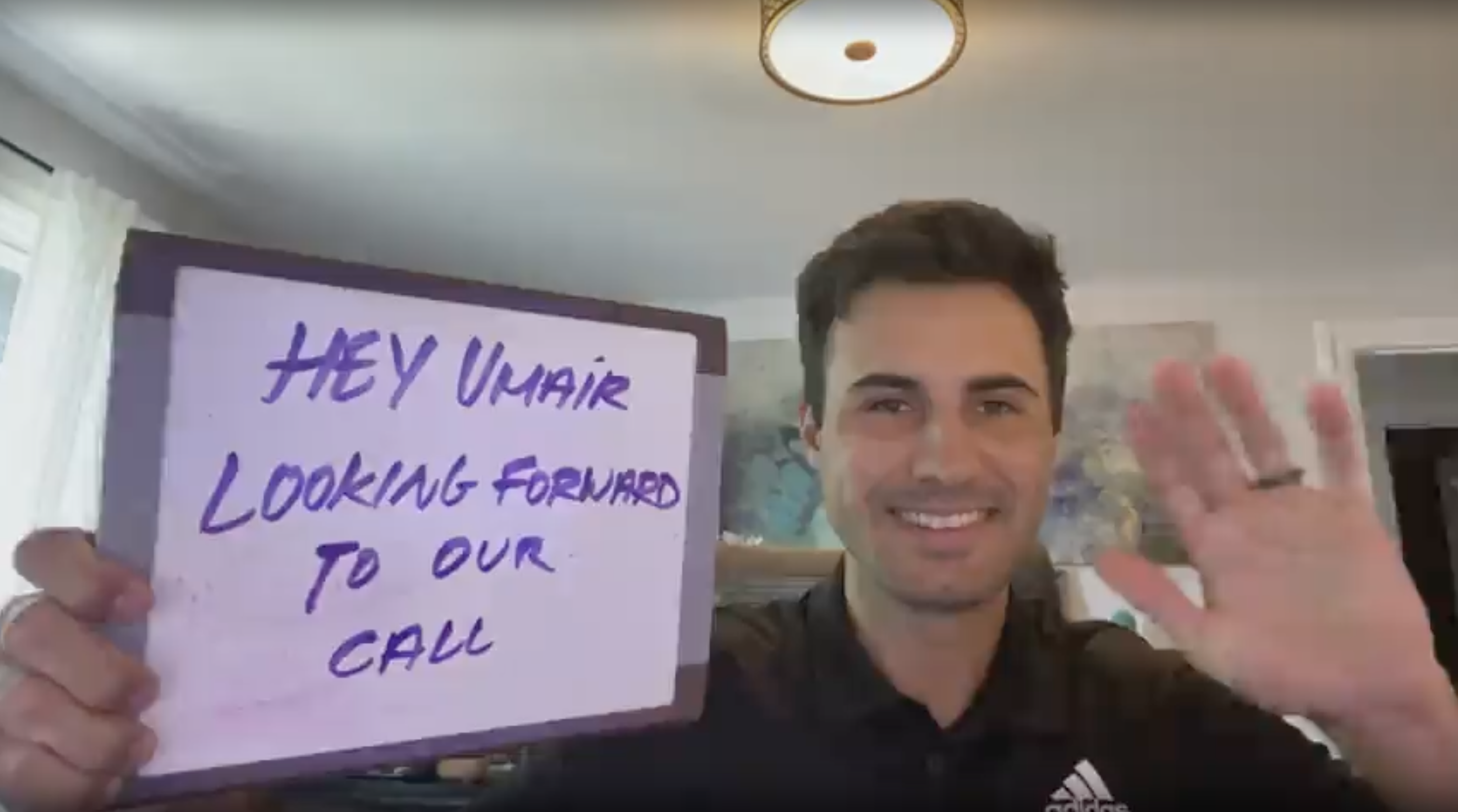 Videos not only boost engagement, but they also help build connections between the company and customer and save time for all parties involved. And in virtual selling processes when the company cannot meet with the customer physically, they can be used to introduce new products or services, answer customer questions, and provide helpful information that can help close deals.
By creating videos that are tailored to the needs of their target audience, salespeople can create an engaging experience that will help them stand out from the competition.
Document Management
Document management is an important part of any digital sales room. With the right document management system, sales reps can easily access and share content with prospects and customers to help those prospects make informed decisions.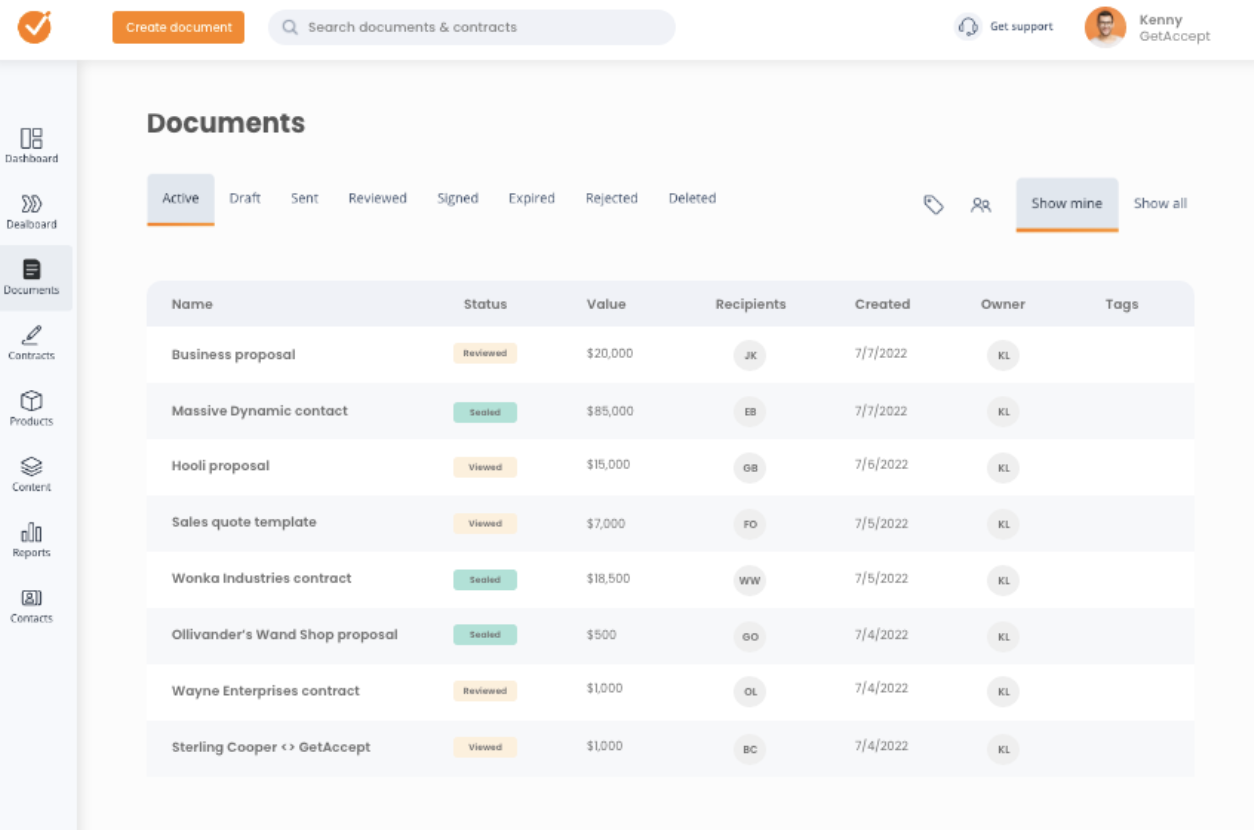 Like in the example above, document management systems can help streamline the sales process by automating certain tasks such as creating contracts or generating reports. This saves time and money while allowing sales reps to focus on more important tasks like building relationships with customers.
Data and Analytics
Companies that leverage data tracking and analyzing technology stand to benefit greatly with increased effective targeting, higher engagement among customers, and improved customer service satisfaction.
As stated by an article on becoming a data genius, "without tracking, business owners simply cannot know what works and what does not." Not analyzing the data gathered in digital sales rooms is comparable to shooting arrows in the dark without ever knowing where they actually land. This would be an especially impractical aim if your goal was to hit every target within striking distance.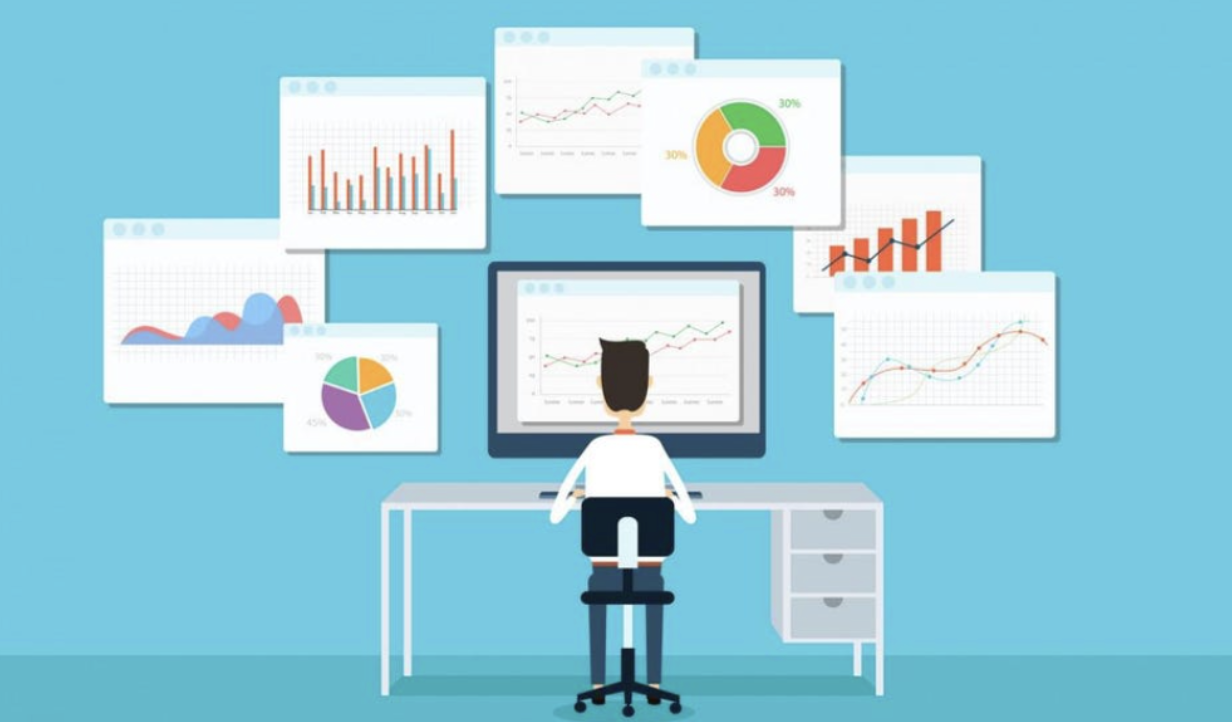 Companies must equip themselves with useful insights garnered from tracking and analyzing what their customers engage with in order to create tangible returns from their actions. Analyzing such data gives business owners agility, allowing them to swiftly adapt tactics that match changing circumstances. In summary, data tracking and analyzing technology is an incredibly important and transformative feature of digital sales rooms.
Integrations
Effective digital salesrooms also have integration features.
Integrations are important for sales processes as they allow businesses to streamline their operations and maximize efficiency. Integrations provide access to customer data, automate mundane tasks, and help teams work together more effectively.
Some digital sales room integrations include apps (i.e. Slack, Twitter, or YouTube), management software (i.e. Salesforce, Loom, or Trello) proposal integrations, and e-signature integrations (as depicted below).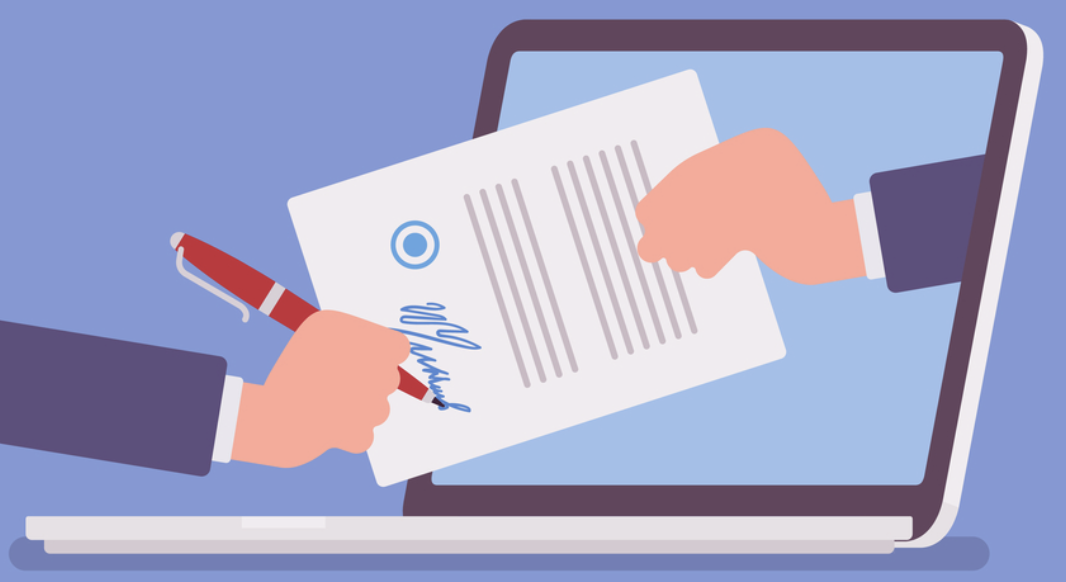 Each of these integrations help streamline the buyer's experience and provides them with all the tools and content they need to make an informed decision about the product or service they are interested in.
Why Should You Use a Digital Sales Room?
As with any sales enablement platform, implementing digital sales rooms into your sales strategy comes with incredible benefits. Below are the three biggest KPIs that companies see from digital sales rooms.
If you are interested in digital sales room comparison, check out this article for the best digital sales room software of 2023.
Enhanced Customer Satisfaction
Companies seeking to create strong customer relationships have been finding success through digital sales rooms and other types of sales enablement software.
This unique platform allows businesses the opportunity to customize experiences for their customer's exact needs, which creates a special connection that helps build trustworthiness between them.
Through this deeper level of engagement, companies can achieve higher levels of loyalty from existing clients while increasing satisfaction across all customers — creating an invaluable asset for all types of companies.
Increased Sales Conversion Rate
Every salesperson has the same ambitious goal: to successfully convert prospects and bolster their company's client base.
To do this, they must have access to helpful tools as well as relevant strategies, resources, and content.
Interactive sales rooms provide just that—a digital medium through which customer-facing teams can educate buyers on all available options for them in order to make informed decisions; ultimately leading to a higher conversion rate of successful purchases.
Improved Customer Lifetime Value
Managing customer lifetime value (LTV) is the key to reducing churn and improving satisfaction. Because it can be much more costly to find new customers than to keep existing ones, nurturing customers in order to reduce churn is a common priority for businesses. – and that's where digital sales rooms can really come in handy.
When you prioritize keeping your prospects and existing customers happy, their LTV goes up, leading to better long-term success for your business.
How Saleslion Can Help You Boost Conversions
Saleslion has become a pioneer in the world of sales enablement. Stemming from 10+ years of refining and developing Saleslion offers a 3-in-1 solution unlike anything else.
Combining our digital sales room with expert sales consulting, Saleslion helps companies personalize the sales experience for their customers, track and analyze customer data from the Saleslion digital sales room, and optimize the sales process through collaboration so that they can close more deals, faster.
Personalization
Personalizing the sales process is essential for businesses to be successful, especially in today's competitive market.
With each new customer, Saleslion designs its digital sales platform to be a personalized representative of the customer. This includes adding the customer's logo and brand colors to the room as well as filling out the interactive tools with content specific to the customer's expressed wants and needs. Saleslion also includes personalized video messages to customers as they enter deeper into the sales process.
By doing this, Saleslion demonstrates its eagerness to serve and its desire to provide an enjoyable experience for its customers.
Data Tracking
As stated before, not analyzing data throughout your buyer journey is like shooting arrows in the dark: you will have no idea where to aim.
To combat this, Saleslion's digital sales room allows companies to watch how their customers respond to certain tools and resources and how they engage with other types of content. This can then be used to either personalize a specific customer's experience or to shift the whole sales strategy because of common engagement themes seen in many customers.
Collaboration and Consulting
On top of the incredible features of personalization and data tracking found through Saleslion's digital sales rooms, Saleslion also helps companies thrive long-term through collaborative consulting.
Eager to not only provide companies with the tools that they need to scale their business but also to come alongside those same companies and help them develop systems, strategies, and better-optimized processes, Saleslion's purpose is to give companies everything they need to thrive.
Key Takeaways
Digital sales rooms are integrated sales enablement platforms to provide sales leaders and teams with the tools and support they need to scale their company and close more deals.
Overall, digital sales rooms are an invaluable tool for businesses looking to optimize their buyer journeys. By providing an easy way to store and share data and documents, and creating a visual experience for customers with interactive content, businesses are able to close deals faster and deliver a more personalized customer journey. Additionally, digital sales rooms enable teams to get real-time analytics on how customers interact with their products or services which can be used to further refine the sales process.
Reach out to us today to scale your business with Saleslion's revolutionary digital sales room.
Ready to reinvent your sales process and tools?
One quick call and we'll share our approach - no pressure.
Schedule your demo